Posted by:
Wildtr6
Date: December 26, 2012 10:04AM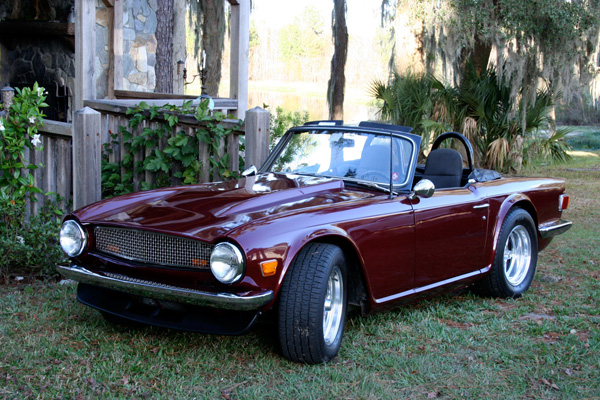 You will not find a better TR6 anywhere, at any price! This very car is documented as top of the food chain in the Speedpro Series book "How to Improve the TR6". It's an all-around great car with especially fantastic handling and power. What about the classic Triumph bits? Everything except fenders and floor is either new or refreshed.
This V8 conversion project was started by Dan Masters of Tennessee. His idea was to emulate the TR6 built by his good friend, Ted Lathrop (owner of Fast Cars, Inc.), except with a few differences such as Ford power. I purchased what was begun by Dan. He included a new Ford Motorsport GT-40 small block crate motor with B-303 cam, dual 4 barrel Edelbrock carburetors, and a Tremec T5 transmission as pictured in the July 2009 edition of BritishV8. Dan, a retired electrical engineer, developed a killer wiring harness and started the company Advance Auto-Wire; I got the prototype.
Next, I twisted Ted's arm to build me a custom frame and suspension. This is THE FRAME shown in Ted's recent ads, featuring coilover suspension both front and rear. Fast Cars is careful to reduce unsprung weight. The result is an extremely comfortable ride and a car that handles like a new Z-06, plus I've never seen a prettier work of art!
I took the rolling chassis back to Florida with an 8" Ford 3.73 rear-end and Streetlite aluminum wheels. I was thinking: "I can take it from here." WRONG! What ensued was my employment of a number of experts down here. Additions from this point included a Vintage Air HVAC system and "Front Runner" serpentine belt system. The engine is cooled by a Griffin 4-row core, aluminum radiator. The headers are ceramic coated, which explains why you don't see blueing. A/C plumbing, wiring, etc. are all carefully hidden from view. I selected Miata seats because I strongly prefer their feel over any of the original Triumph seats. I threw out a new roll bar from Boss Frog and instead had a set of custom roll hoops built. The new hoops outline the seats and the new Sunfast convertible top can even get by. (It fits well. I took Ted's advice, and didn't even paint the hardtop but it will be included in the sale.)
Amber Automotive did all the metalworking to get the basics right on the firewall. They also made the Tulius Racing hood fit. I sprayed the TR6 tub inside and out with about $600 worth of Lizard Skin ceramic coatings for heat, sound and vibration insulation. Famous Nashville guitarist Jesse Embry did the final bodywork and paint. Then I lined the interior with about $520 worth of Koolmat. The car is cool, quiet and feels solid! Fine tuning was by John O'Mara who really knows details under the hood and whose hands fit under the dash a lot better than my hams.
I entered, and was accepted in last week's Festival of Speed in Orlando. The ass end of this little beauty was backed up to the one-of-one Bugatti Veyron ($3 million) and its lesser twin pne-of-fifteen ($1.9 million). McLarens, Porches, Lambos and those prancing horse people, all with the correct change, were mulling all over the "6" in amazement. It was a thrill to see but also sad to know I need to sell. When a few noticed my British V8 ball cap, they would ask such things as "can it be controlled" or "I bet that breaks loose at any speed" and I would try to not brag about how it was likely better than most of the $300m in hardware sitting around. But, I did and tried to not grin like a mule eating briars.
Photos and more detailed specifications may be found here:
How It Was Done!
I'll take
$35,000
$30,000
. Not too much if you say it fast and compare the cost of a quality-built, completely re-engineered car. If Detroit spent cash like me, they'd need another bailout!
Call me at 352.540.5009 (or contact me though the BritishV8 forum's Private Message system) and then come to Florida. We'll order up some sun and haul in more sand for you!
(note: Moderator updated the price...)
Edited 1 time(s). Last edit at 06/14/2013 03:51PM by Moderator.