Posted by:
TR4AIRS
Date: April 13, 2012 01:53PM
Hello,
This will be the project journal of my TR4A rebuild including several upgrades. Due to circumstances I have not been able to work on the project full time, but we'll get there in the end. Since it's not possible to give comments in this topic, I would really appreciate it to hear opinions and suggestions in private messages.
Regards,
Kristof.
Owner: Kristof Van Pachterbeke
Country: Belgium
Car Model: Triumph TR4A IRS
Engine: Honda S2000 F20C 2-litre
Cooling: alumium radiator
Exhaust: custom made 60mm stainless steel exhaust
Transmission: stock S2000 6-speed transmission, not decided on flywheel and clutch yet, custom propshaft is still a big question
Rear Axle: Nissan R200 viscous limited slip differential, 4.1:1 ratio, Richard Good constant velocity axles
Front Susp.: adjustable upper A-arms, strengthened lower A-arm brackets, antiroll bar, not decided on springs and shocks yet
Rear Susp.: antiroll bar, not decided on springs and shocks yet
Brakes:
(master) complete pedal box by Racetorations
(front) AP Racing 4 pot calipers and perforated/ventilated 280mm discs
(rear) aluminium lightweight drums, brake shoes with high performance lining
Wheels/Tires: 7 x 15 ET-12 Compomotive ML1570 wheels, no tires yet
Body Mods:
Interior:
Electrical:
These are some before shots...
Dismantling the car...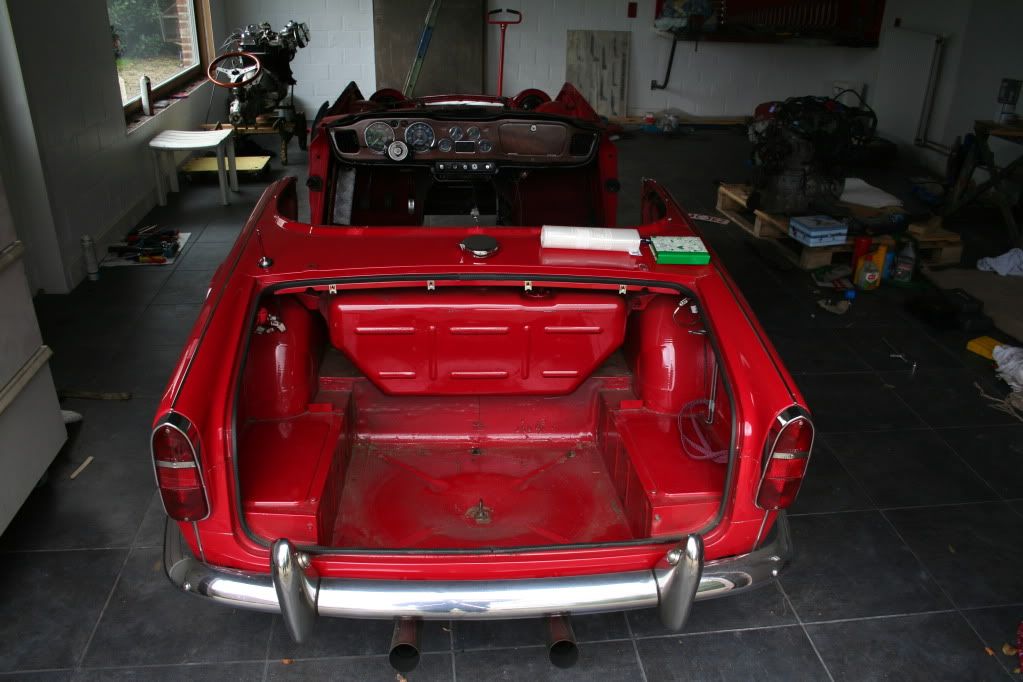 Test fit of the S2000 engine in the original chassis. We fabricated engine and transmission mounts and already started with the routing of the stainless steel exhaust. I wrapped the header in "Cool It Thermo-Tec Copper Header Wrap". Afterwards we removed the engine and cut the chassis in parts because the chassis builders needed certain parts for the new item...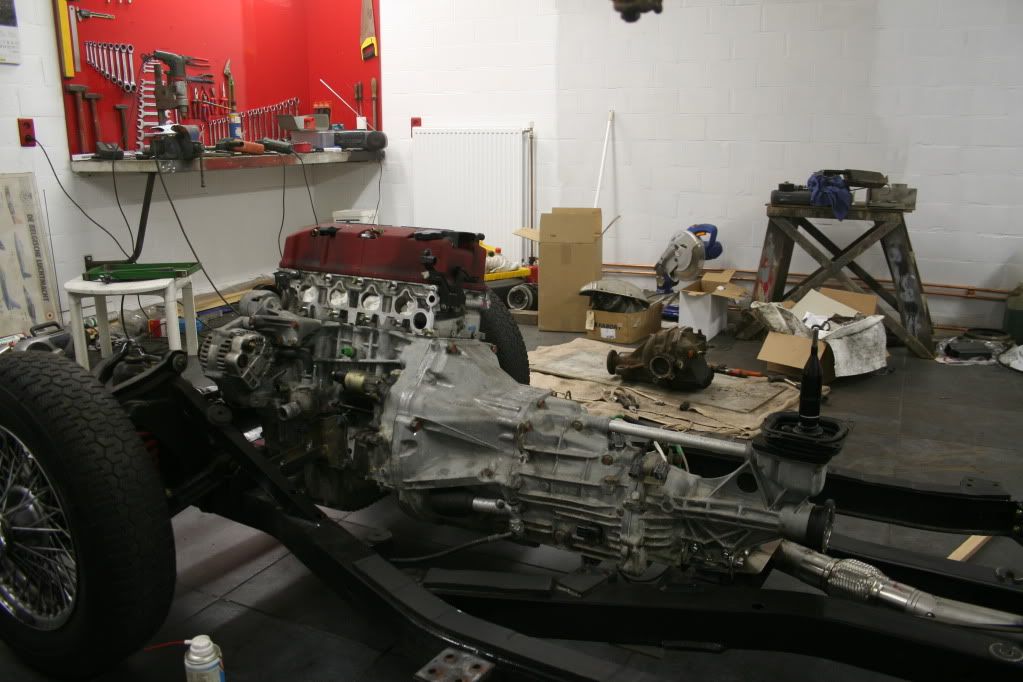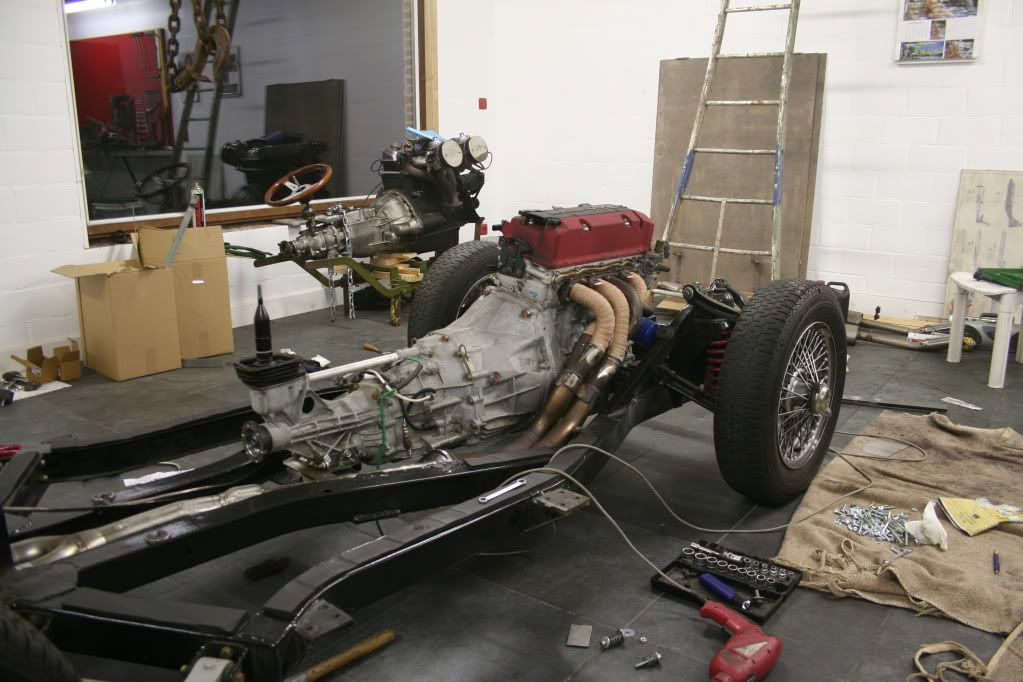 We started with a completely new slate. This a custom made chassis by the TR experts from CTM Engineering.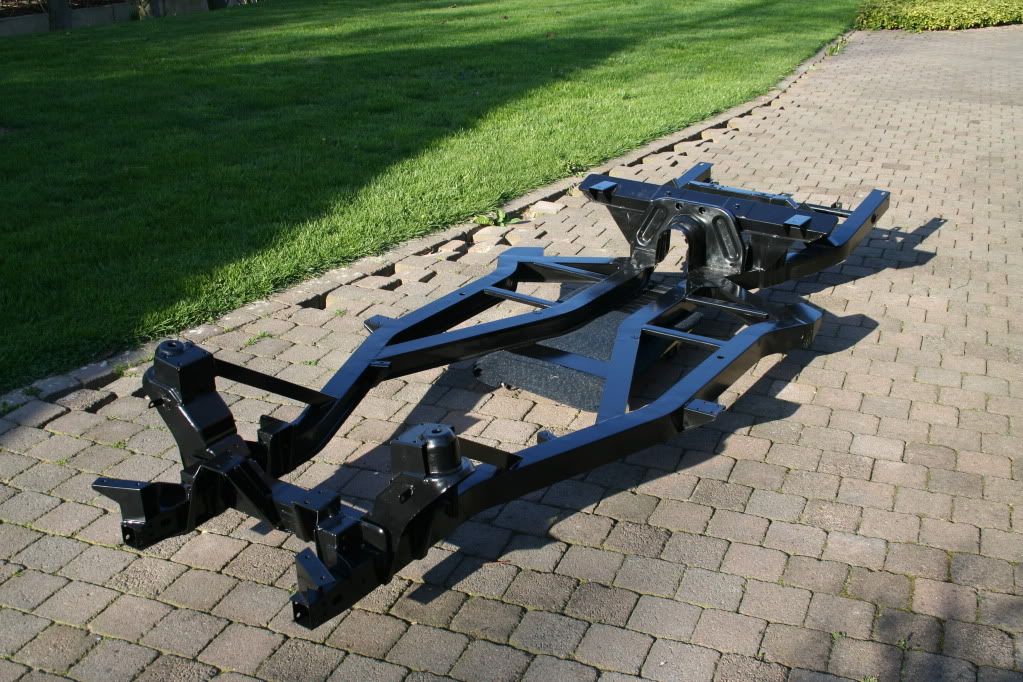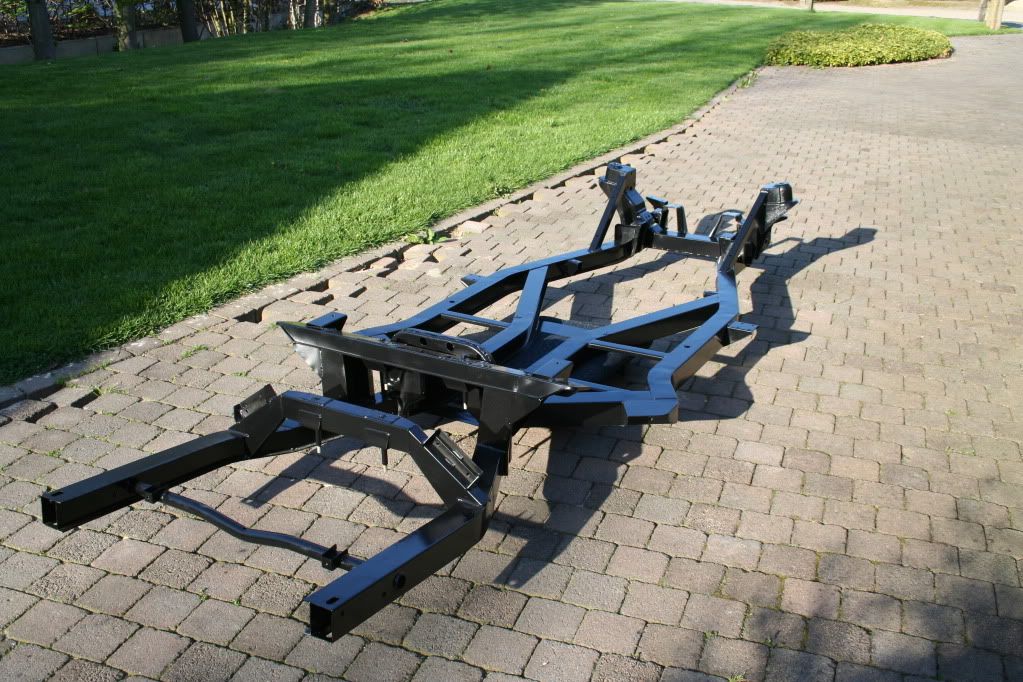 04/12/2012
I bought a high capacity air compressor and a sand blasting cabinet to strip the paint off parts and wheels. This is part of the result. The parts have now been delivered to a company who will put on a corrosion resistant coating. Assembly shoud start within one week!
04/14/2012
Last year in June we made another trip to the UK. This time we went to Racetorations in Gainsborough to pick up some very cool stuff. They have a TR4 for sale which has been beautifully rebuilt and upgraded. Especially the front and rear fenders were amazing. They are expensive aluminium ones, but have also been widened about one inch front and rear. You can see that the magnesium Minilite wheels with zero offset fit perfectly! Definitely something to look into when we get to that stage. Here are some pictures...
04/17/2012
This morning I received a message saying that my parts had been coated. After work I rushed to Antwerp to collect my box with suspension and brake parts. Here's what they look like now. Assembly can begin, the weather is just awful this week!
04/19/2012
Edited 10 time(s). Last edit at 04/19/2012 11:07AM by TR4AIRS.