Posted by:
Moderator
Date: March 03, 2017 10:02AM
Tristan, it's great to see you back!
With regard to radiator hoses... It's very like you'll be able to use off-the-rack hoses from your local auto parts store. Once your engine and radiator are bolted in, mock up the required shapes by forming and trimming pieces of coat hanger wire so they show the centerline of the shapes you need, then take those models to the store. Many of the hoses you find at the store will seem way too long, but that's a good thing because you're looking for hoses you can trim to usable sections.
Just as an example - since my radiator ports are probably in a totally different place than yours will be - I found that the following hoses fit my needs nicely: Dayco hose #70635 for 1970-1979 Camaro and Monte Carlo (for the top) and hose #71013 for 1969-2006 Ford Mustang (for the bottom).
If you're less lucky and you don't find hoses that fit nicely from port to port, you can buy two hoses and make them work with a splice in the middle. There are lots of examples in the Photo Gallery. Here are two examples of good splices:
(to see video about Gates PowerGrip splice, click here)
(here's an example splice with a port for venting air from the top hose... you can buy these)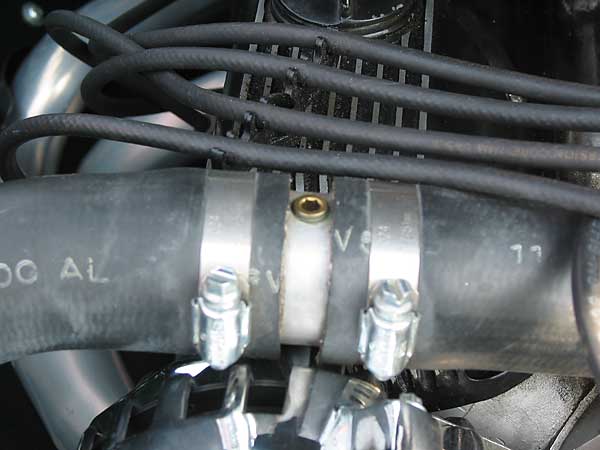 more info on splices here: [
forum.britishv8.org
]
With regard to radiators... I'd recommend studying the Photo Gallery. Lots of alternative suppliers and even part numbers are shown there, plus pictures! Three clues: (1) maximizing airflow through the radiator is the key to good cooling system efficiency, (2) any radiator will work a whole lot better of you block air from flowing around it rather than through it, and (3) Buick 215s are relatively easy to cool, so you don't need a particularly large or exotic radiator. (Good, clean, original copper/brass MGB radiators fitted with oversized ports have been used successfully.)