Posted by:
HealeyRick
Date: October 25, 2011 05:05AM
I've been trying to get the Nasty Boy road legal before it gets too cold to play in my unheated New England garage. In order to legally operate a motor vehicle upon the ways of the Commonwealth of Massachusetts, one must obtain a motor vehicle inspection sticker, known hereabouts as "gottagetastickah" (rhymes with "pissah"). I've had a primal fear about inspection stickers since 1967 when every 6 mos I'd try to get my well used bugeye through inspection. There was always something wrong with it and I'd hold my breath that it would pass and give me another six months on the road.
So with more than a little trepidation, I brought the Healey in to get checked out. For older cars, it's not a huge deal. Lights, directionals, brake lights, brakes, emergency brake, horn, wipers, kingpins, etc. Car guys know which inspection stations are hot rod friendly and which ones aren't. Fortunately, I've got a local guy who's sympatico with the classic car guys.
Passed with more or less flying colors. Here's the proof: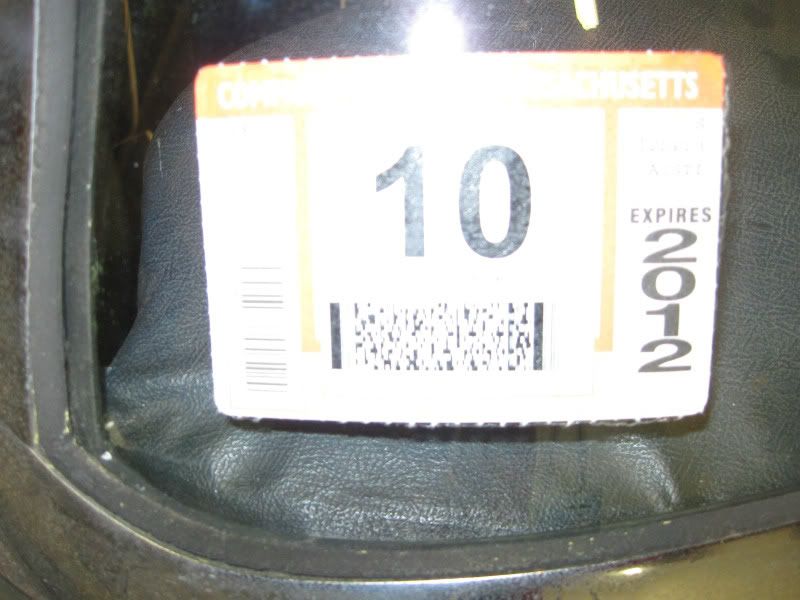 Once legal, I filled up the tank and did about five miles on it. So far, I'm enthralled. It's really solid. Between the balanced rear brake drums and additional bracing around the doghouse, there's no scuttle shake. It's running about 190 degrees, which makes me a little less concerned about the modified stock radiator and Texas Cooler mechanical fan.
But the most exciting thing is this car is ... uhmmm... what's the word? Oh yeah .... FAST! I have to admit I was always a bit disappointed with the performance of the Big Healey. The six is a great sounding motor, but to me it never had the performance to keep up with those handsome lines. 345 hp changes all that. The pipes sound wonderful and it really moves!
I know I need pictures and videos, but I've got a bunch of clean-up and detailing to go before he's ready for some beauty shots.