Posted by:
HealeyRick
Date: December 06, 2012 05:47PM
When I was trying to figure out the Tiger manifolds in the picture, I found that the one on the bottom had a Ford part # on them (which IIRC was a Falcon part) while the top manifold was non-Ford part# that I suspect was Tiger specific. I, too, looked at turning the outlet port 180 degrees and rewelding or brazing, Lots of opinions that it can't be done and will crack again when it's finished. Others said it can be done by preheating the whole part with a slow cool down. I'd look for a welder who has done it in the past. I lucked into a second Tiger manifold in the end so didn't have to go that route. The other option is the Falcon log manifolds reversed like this:
The advantage to these is that you can make the transition to the outside of the frame rail in the steel exhaust pipe rather than the cast iron. (I've got a pair of the log manifolds you can have for $25 plus shipping if you're interested.)
BTW, I hope you're keeping the locomotive horns that were in that car, probably louder than the motor.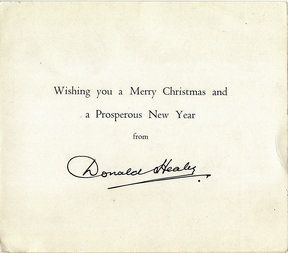 Edited 3 time(s). Last edit at 12/06/2012 06:23PM by HealeyRick.