Posted by:
Moderator
Date: November 06, 2009 09:06PM
Upon further research, it seems that the sliding block concept was pioneered by Mercedes Benz, and later used by BRM. (I'm still looking for more info. Probably other people have used the idea.) BRM did something a little different than Lister. They designed the "slot" right into their differential housing. Their "pin" is coming off the FRONT side of their DeDion tube. It's a neat approach because the differential housing needed to be robustly mounted anyhow. Here's a photo of the BRM (V16) installation:
(copyright Tony Matthews, 2009).
If you were building a DeDion suspension anyhow, it's probably best to mount the pin facing forward... but honestly, when I asked the question I was thinking about live axles. If you were installing a Ford 8" axle, for example, it would probably be more convenient to mount the pin off the BACK of the axle housing.
Obviously a Panhard rod is the cheap and cheerful way to go... but some people want something better. A Watts link is usually considered a step up over a Panhard rod. In these next two photos, you see that a Watts link has been installed on an MG Midget. The center pin of the Watts link is mounted off the chassis, and two radius rods run outboard to brackets on the axle. It's a very neat installation, but not exactly simple: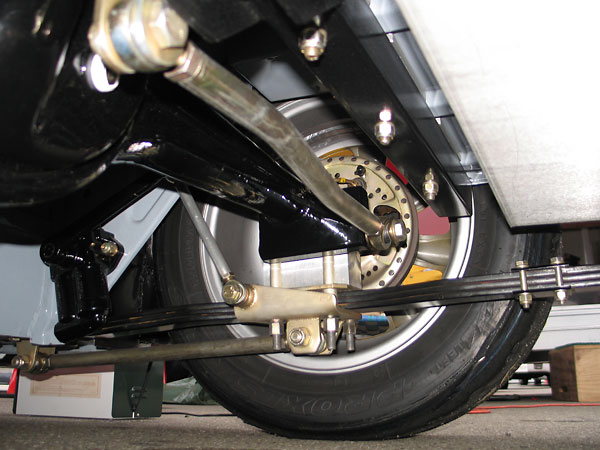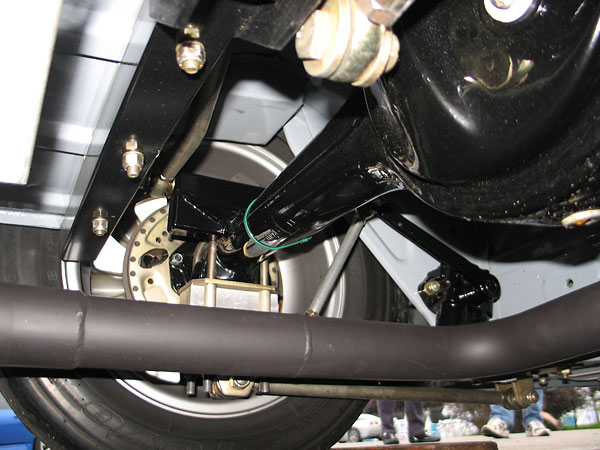 ---
With regard to IRS vs. DeDion... I would agree that a decently designed IRS should definitely be superior on bumpy roads. However, roads have never been smoother than they are today. Furthermore, it's going to be pretty tricky for the home hobbiest to design or fabricate a really good IRS to suit one of the lighter British sports cars. The Jag IRS will work okay on something like the Roadmaster... but it ain't especially light! For a Super 7 replica or even for a Spitfire or a Spridget, it's just ridiculous overkill. I really think a DeDion makes a lot of sense for these cars, especially if they're running wide tires.
Food for thought:
Why did DeDion tubes fall out-of-favor for racing cars? Surely one reason had to be that engines moved rearward, and with the engine behind the driver there's just not much room to package a DeDion tube.