Posted by:
Moderator
Date: June 18, 2012 11:59PM
In principle, basic four wheel alignment is entirely "do-able" with four jackstands, two pieces of string, and a tape measure. Perhaps this photo (from BritishV8 2009) will help: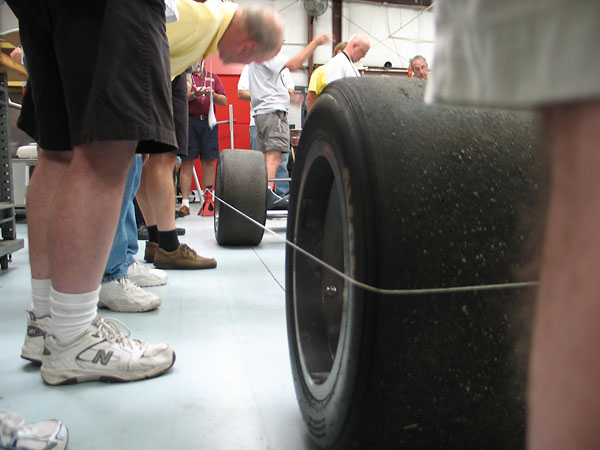 (In this case, the car's front track is narrower than its rear track, so the string is just wrapped around the rear tires... only two jackstands were needed in this case.)
For best accuracy, it's important to get the car level first. (If your floor isn't level, use shims under your tires.) Since I usually work alone, and since I can't hook a tape measure over a string without causing deflection, I find it helpful to put masking tape on the floor in a few strategic spots and then use a plumb-bob and a pen... basically getting from a 3-dimensional world to a 2-dimensional one that's easier to measure.
Actually, I don't use actual use string at all anymore. I have a nice, stiff, straight aluminum extrusion that's far handier. I have a mark on it at mid-point that I align with the holes in the MGB hub bearing covers. A longitudinal groove in the extrusion is a convenient feature - my plumb-bob's string fits neatly in it. Once I have two marks on the floor for each tire, I can measure side-to-side to get toe-in. The extrusions extend out to twice the diameter of my tires. (So by my method, a measurement of 1/8" of toe-in on the floor equates to 1/16" of toe-in on the car. Comprehend?) I can also snap a chalk line to extrapolate from one end of the car to the other, to verify that the front and rear are in alignment with each other.