Posted by:
Moderator
Date: February 05, 2009 06:32PM
From all my research, which lately has included talking to a number of people who race MGBs, the rear springs should be sprung softer (not firmer) for best handling. Stock GT springs have an extra leaf, compared to roadster springs, so that's going the wrong way. (The real racers remove leafs.) However, if you soften your leaf springs as they recommend, you may encounter two problems. First of all, you're more likely to have your axle bashing the bump stops. (The racers modify their cars to accommodate more axle travel.) You'll also probably worsen "tramping". In other words, during hard acceleration or braking, the front part of the leaf spring assembly will try to deflect into an S-shape and then spring back, producing wheel hop all the while. For that reason, people install some device to combat spring wind-up. There are many options for that. I think about one third of the cars in our photo gallery have some sort of anti-tramp bars under the springs. Lorenz Hassenstein went further, and also has a pair angled inboard to help keep the axle centered! Racers, who are willing to modify the bodywork over top the axle prefer a single rigid link forward from the top of the differential (as shown on both Ken Bierman's car and also on Les Gonda's racecar). A final option which I have no experience with is the spring-loaded traction device Bill Guzman recommends (see below).
In any case, from personal experience (and with nearly perfectly unanimous agreement from the racers) I strongly recommend Panhard rods and I haven't seen one yet that seemed too robust for the job.
There's another way to help reduce side-to-side movement of the axle: stiffen up the bushings at both ends of the springs. Urethane bushes probably make sense on a road car, but apparently racers usually go with metal-to-metal bushes.
Here are a snapshots and links to stuff mentioned above:
[
www.britishv8.org
]
(note: this photo shows both conventional and angled-in anti-tramp bars in one shot... Lorenz has LOTS of power to get down!!!)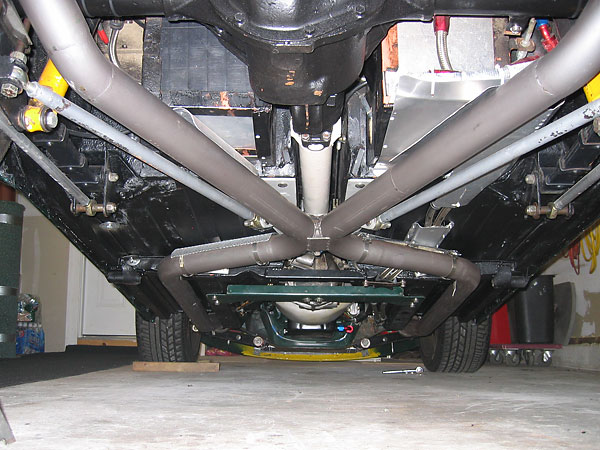 [
www.britishv8.org
]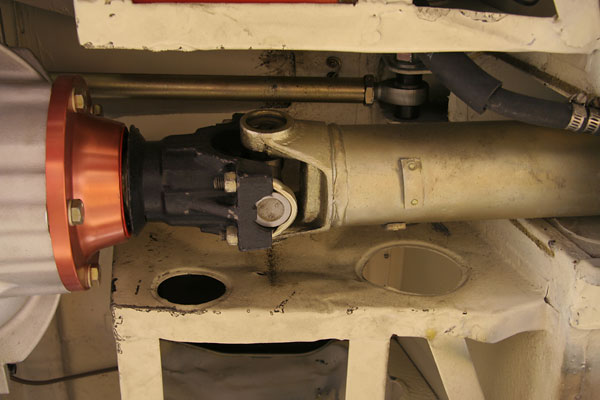 [
www.britishv8.org
]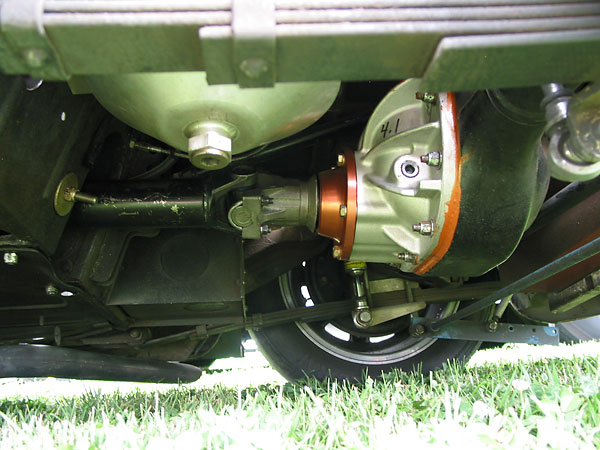 (note link above driveshaft)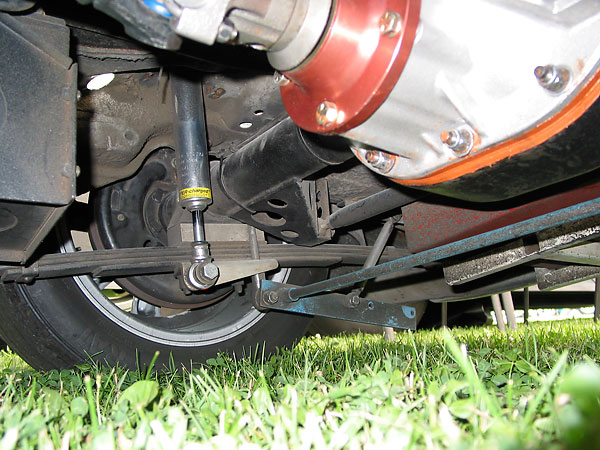 (Panhard brkt on axle)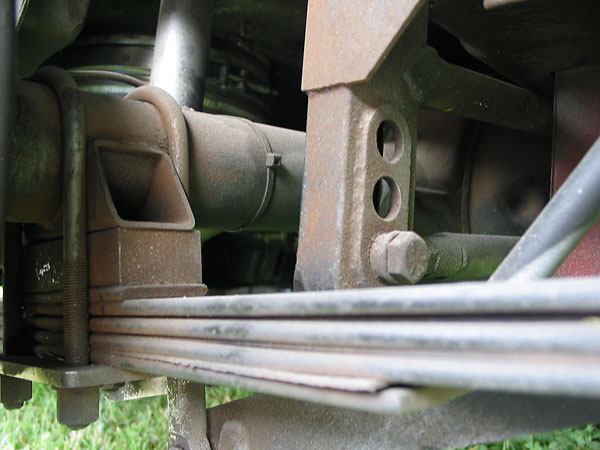 (Panhard brkt on body)
Bill Guzman's spring trick: [
www.britishv8.org
]